First off, happy birthday to my sister, Sami!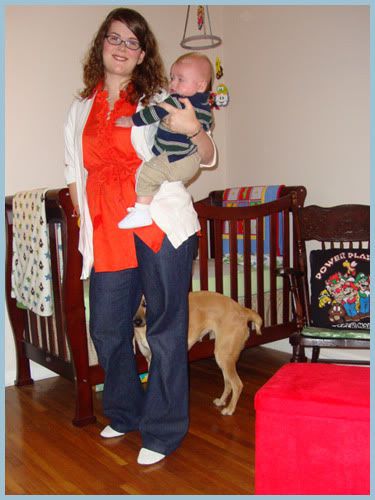 lol @ Kipp's face peeking out from behind me!
The Munchkin's took an epic 2.5 hour nap today. It was amazing. I got to take a long shower, I got to do my hair nicely, I was able to iron a shirt… I never wear this shirt for that reason, which is sad because I like it a lot. I might have over done the baggy with my baggy sweater AND baggy jeans, but oh well. I liked it, and I don't care if I looked a little heavier than normal. Also, yeah I wore white shoes after Labor Day. What of it? Ha, and that dark spot on the bottom of the shirt? Yeah, that's spit-up. Just keeping it real.
On Mama:
80s (?) White sweater via Amvets Thrift Store
Orange ruffle tank via Ft. Drum's PX
Eddie Bauer wide leg jeans via Salvation Army
80s (?) "wicker" shoes via Amvets Thrift Store
On Baby:
Ralph Lauren shirt via Goodwill
Khaki pants from Khols
White sneakers from Walmart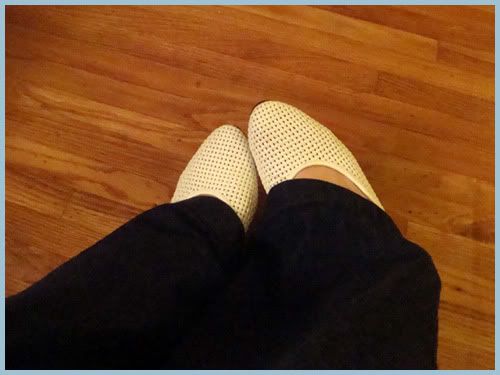 We went out to the mall because it was the grand opening of Old Navy there. I got a couple new tops, and a couple of things for The Munchkin as Christmas presents. After Old Navy, I spent most of the time looking for a Christening outfit for him, but everything I could find was way too expensive.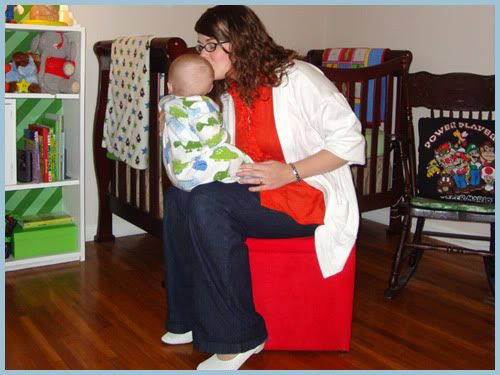 When we got home, The Munchkin was super tired, and went to sleep almost immediately. A good Saturday, if I do say so myself. I'll have to remember to make this a regular thing.
PS: I almost forgot! Outside of the Gap, staring into the store, were some of those creepy Old Navy Modelquins. If I worked at the Gap, I would have been so freaked out.