I used to have my own craft blog, but once I had The Munchkin & John deployed, I really didn't have enough crafting time to warrant an entire craft blog. I still do craft on occasion though! Do you have a project you want to show off?  As for my project this week, I finally found a way to upcycle formula and crunchies containers!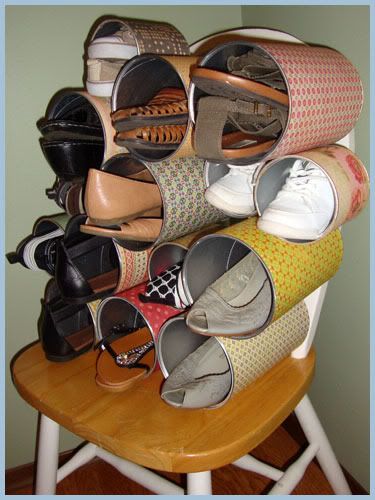 Mommy & Baby shoe holders!

What you'll need:
12×12 scrapbook paper (as many sheets as you have containers) I bought a package of paper on clearance at Walmart for $9, I think.
Infant formula and/or snack containers (my big containers are Target generic infant formula)
Glue
Pencils/pen
Paper cutter or scissors
Hot glue gun (not pictured)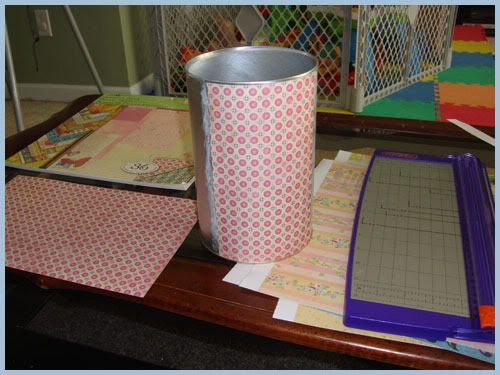 Steps:
Wash out inside of container and remove label if possible.
Cut out your paper. I measured the length of the container and cut the paper accordingly. The 12×12 paper won't be long enough to wrap all the way around the container, so you'll have to cut another piece to fill in the empty space. Don't worry about that because it will be the bottom of your shoe holder.
Take the left over paper and cut it so that it is as long as your container, leaving a square that you can put to the side. (You won't need it.)
If you're cutting out paper for the smaller containers, you might be able to get two container's worth of paper in one sheet.
Once all of your paper is cut, glue the small rectangle (2nd piece cut) over the gluey, messy part where the original label was stuck to the container.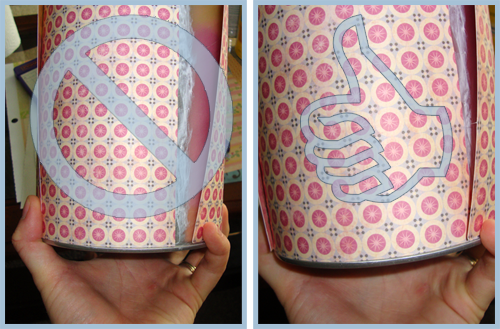 Next, before you apply glue, wrap the long piece of paper around the container to make sure that none of the silver is showing.
Once you've figured out where to start the paper, apply glue and glue it down! If you have mod podge, you can apply that, but I don't have any, so I just added a LOT of glue and pressure to keep the paper edges flat.
Repeat this process until all of your containers are covered.
Optional step: Find something new for your bored child to play with while you finish this project up.
(I didn't  take a picture of this process, sorry!) Figure out what order you want to put your containers in. I usually snap a photo with my phone so I remember which container goes where.
Working from the bottom up, glue containers together two at a time. Mark where you want the hot glue to go. I put two containers together, and drew a little line where they touched in the front and the back. Then, I made a zigzag of hot glue connecting the two lines.
Smush containers together. Repeat until shoe tower is complete!
Mine is a little off center now, but that'll change when I add more next time I use up the formula/baby snacks!
Notes:
I wear a lot of flats, so I can usually fit a pair of shoes in one container, but you can see some didn't squish, so I had to put a single shoe in a container.
If you have matching lids and you use these for larger kid shoes and not adult shoes, you could even add the lids after and close off the display! I might caution you to put some kind of protective something around the edges of the formula cans though, (Duct tape before the scrapbooking paper maybe?) as the edges seem a little sharp. It's fine for adult use, but might not be for kids.
This might encourage you to buy more shoes so that you can fill up the spaces. Just saying.
Like what you've seen? I'd love it if you could give the blog a click!