This Steppin' Out Saturday is brought to you by The Munchkin's birthday party, which was last Saturday! We were blessed with beautiful weather, and everything went really well. Sure, I made a Walmart run at 3am the night before while my mom sat up watching TV with a grumpy teething tot, but all in all – fantastic.
This picture was actually taken at the end of the party, but shows what the guests saw as they entered the yard. The party had a Yo Gabba Gabba theme. I won't take credit for those cut outs; I got them from a neighbor. She made them for her kids' first birthday party and said I could have (!!) them when I admired them on a walk one day.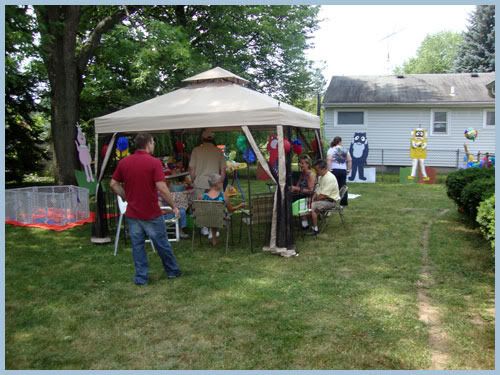 John, The Munchkin, The Grandmas, and I went on a mad hunt to find a gazebo the day before. The weekend before the 4th of July weekend us not the time to go looking, we found out, because everyone else is looking for one too! We ended up finding this one at Walmart, and I love it. I also love the 1 year warranty because of course the mosquito netting already ripped. :-/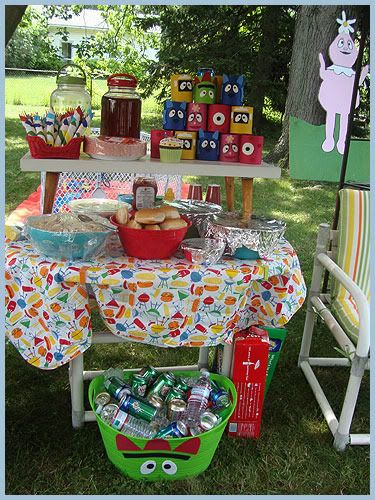 The food table! Drawing inspiration from my pintrest board, I made YGG can koozies, and made the ice bucket holding the soda look like Brobee! I looked and looked, but could only find one green koozie, so I only made one of Brobee. I bought orange ones to make DJ Lance Rock ones, but ended up not needing to.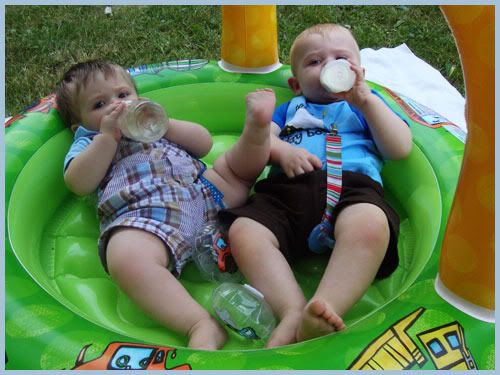 The Munchkin and his friend Enzo spent the first part of the party in the pool. I had every intention of filling it up, but they were perfectly content like this, so I never did. Enzo's foot cracks me up.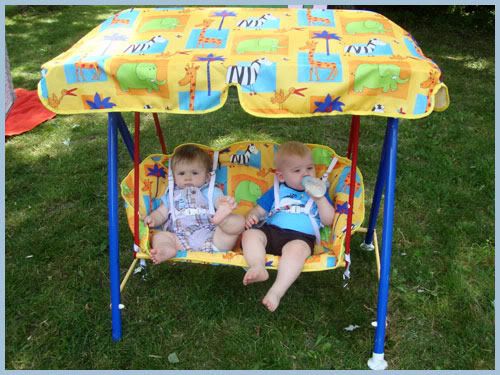 Afterwards, they played in the play area for a while (see second picture) and then we put them in the swing. Eventually, The Munchkin fell asleep, so I had to bring him inside. Poor little guy missed cupcakes! Good thing we gave him cake on his actual birthday!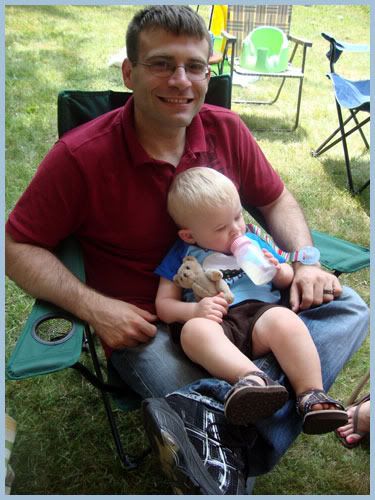 As you know, John got to schedule hid R&R to coincide with The Munchkin's birthday. He spent the first half of the party grilling the food, and then chatted about military stuff (sigh) with the neighbors, whose son in law just graduated from Ranger School. I didn't think about it, but some of my friends had never met him before! So weird to hear introductions being made at the party instead if regular greetings.

Can you tell someone had a birthday??? I was able to rearrange and fit some things in the toy box, and the clicky animal zoo (more on that later) went into the Brobee bucket, but oh man – the kid is only one!!!
On Mama:
Ruffle tank – via the PX at Ft. Drum (previously worn here)
Shorts – thrifted
Belt – came with top
Shoes – thrifted (granny or granny chic? Plz comment)
Headband – Target clearance
On Daddy:
Polo – Old Navy
Jeans – ? (gift)
Shoes – Dockers Whoops he wore his Oasis sneakers
On Baby:
Birthday outfit – Target via my mom
Sandals – Kohl's
Happy birthday again to my little man. You are the best!