Today, we went to the zoo! It was The Munchkin's first time going to the zoo, and we went with my friend, Kim. (She ended up not having to go to the rehearsal dinner, so The Munchkin, Kipp, and I drove out to Syracuse for an overnighter.)
Fun facts: This is the same zoo I used to go to when I was little! Also, this tiger statue used to be bright orange. No joke. (The mat is because it was hoooot and I didn't want my little man's butt/legs to burn.)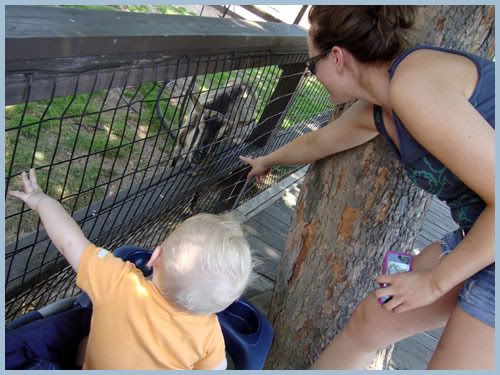 Kim & The Munchkin looking at a goat. We pretty much just went from big animal to big animal because The Munchkin didn't really seem to notice any of the birds or smaller animals.
While we were there, I saw soooo many lobster kids! Ugh it was so sad! Put sunscreen on your kids people and reapply! It doesn't last all day! And don't think that your stroller is going to protect them; their little legs will get burned, and probably their faces. It was 90 out today, and after 3 lobster kids I resprayed The Munchkin with sunblock. I couldn't take it.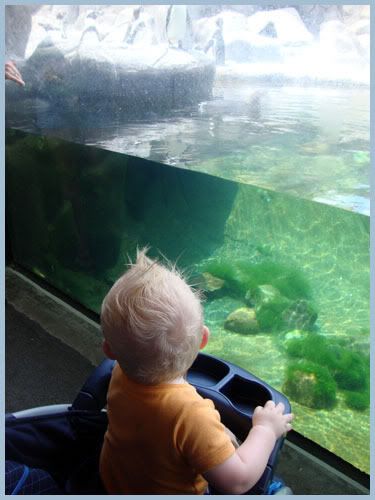 There are penguins in this photo, I swear! They're up at the top behind the dirty glass. :-/ It was so bright I could barely see through my camera's preview screen to see what was in the frame, and anything in the sunlight was crazy washed out. *sigh*

The Munchkin liked the "big kitty" lol. Not that he called it that or anything, but he really enjoyed the leopard and the tiger. Hilarious moment: I let him out of the stroller so he could see the tiger, and while he was looking at it, he heard the sounds of something awesome – PUFFS in the can! He looked around, and sure enough a dad was giving his kid some. The Munchkin, turns away from the tiger, and starts walking over to the guy and his kid. They were on the other side of a long bench, and when The Munchkin realized this,  he started to make his way around the bench, lol. He slipped on some sand though, and fell, and some stranger freaked out while trying to catch him, which made The Munchkin freak out. *sigh* And then they looked at me like I was a bad parent. Whatever. But seriously – this kid loves his puffs.

Kim took a lot more pictures on her phone, but I don't really have any of my outfit. Maybe she does. I wore a white tunic, and denim shorts – pretty simple, but it was way too hot for layers.
On Mama:
tunic- Coldwater Creek, thrifted
shorts – thrifted
headband – Wet Seal, buy one get one for a penny sale
giant sunglasses – $5 kiosk in the mall
gladiators – Boca $8.88 store
On Baby:
shirt – target
shorts – thrifted
sandals – Khols
pacifier strap – Target (this thing is a life saver)