I know I used to do Wordless Wednesday posts, but frankly, they started to tick me off. There were too many that posted on Tuesday, and too many people doing them, and I just got frustrated that I would go to add my link at 7am on Wednesday and find myself at #100. So, no more. I found Little Vintage Style over at Heart and Sew via Harper's Happenings and was so excited! This link up was right up my alley. So, I present to you, The Munchkin in his rainbow top and his clicky animal train.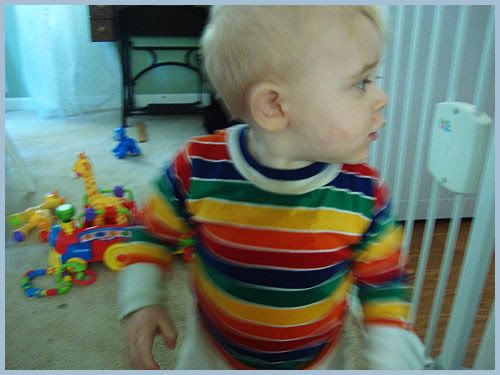 Mental note: Take blog photos BEFORE lunch, lol. Sippy cups aren't our friend yet.
I originally bought this shirt with the shop in mind, but when I realized that it fit The Munchkin, I had to keep it. I love the bright colors! Yeah, it might be a little warm to wear outside, but inside in the AC it is just fine. 🙂
Sorry about the picture. This one is to partly show off his shirt and partly to be like "OMGWALKING!" The kid walks all over the place now.

This is how it all started: The train and one car + animals. I bought these from my fav kid's consignment store right before our trip to Florida. Actually, at the time, he only had a giraffe, a panda (obv), a monkey, and an elephant. I call them the "clicky train/zoo" because when you move the heads and legs of the animals, they click. The set is actually "Amazing Animals" or something like that by Fisher Price.

At some point, I got him the polar bear house, and for his birthday, I got him a bunch more animals. My MIL got him a boat with more animals, I think my mom bought some animals (y/n mom?) and after his birthday, I went back to the store and bought some more cars for the train. (I had thought we'd picked them up on the birthday-present-buying-trip, but nope!)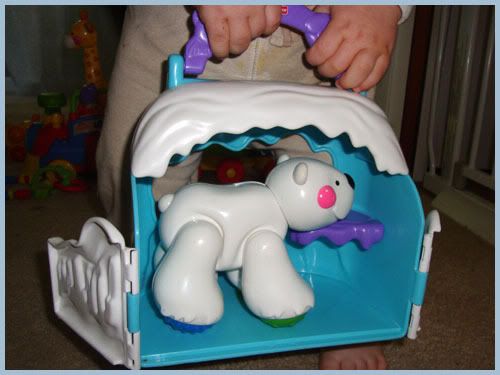 He freaking loves his zoo. Right now though, he likes the polar bear house, boat, and the train/train cars better than the animals. He'll walk around the living room holding the polar bear house or one of the cars, leaving a trail of fallen animals behind him, lol.
Video of the train from a different day:

He loves opening and closing the doors on the polar bear house and spinning the ball thing on the boat. When he spins it, it plays music! The first day I set all of these toys out, we no joke played with them for a little over an hour. Crazy!
I hope this post is ok for LVS…he is in vintage…even if the post is mostly about the toys… Anyway, hello to anyone who might have stopped over here from the link up! Welcome!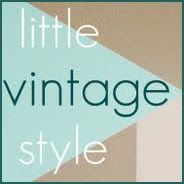 Click the banner above to check out more littles in their cute vintage! Now, if you'll excuse me, The Munchkin just tried to throw my military ID in the garbage can…