This week, we're linked up at Heart and Sew for "Little Vintage Style" and Mama Loves Papa for "Small Style."

Today, The Munchkin is wearing hilariously amazing 90s high top sneakers shorts. There was so much color in them, that I just paired it with a white tee and his white high top sneakers, of course. For that extra 90s touch, I put a denim hat on him, which he immediately turned to the side, lol. I turned further back soon after.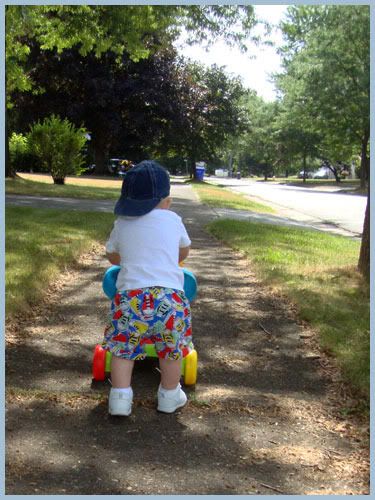 The Munchkin is borrowing his shorts from the shop.  Well, kinda. They're for the shop, but they're not going to be listed until next month's update, ha. They're actually overalls, but they're too short for him to be worn that way. They're marked 0-3 months, but since he's 1 and the bottoms fit, I might think 6-9 months maybe? I don't know…could be sized by the overall straps? I'm going to include measurements on the listing itself. Anyway, that's enough shop talk.

This was The Munchkin's first walk w/o a stroller. We took a cue from Wee Mason's Mom and brought his walker-car-thing outside to stabilize him. He by no means still needs this thing to walk, but it was a good way to keep him on track. Haha I guess walking with is on the sidewalk is a lot different from walking on carpet though, because he fell a couple times when it just got away from him.

High top glory!!! His are from Walmart.

Most of his shoes close with velcro, so he was pretty fascinated by these laces-things. I took his shoes off once we got inside, and he untied them and even carried one around for a while, lol.

Then, it was time to climb on Mommy and try to steal her camera away. 🙂 Not a bad way to spend an afternoon.