08.22.11 edit: Comments are now closed. Congrats, Lisa on winning!

08.02.11 edit: Oh snap you guys! I forgot I have a copy of this to give away! Leave a comment with why you love or want to try pilates for your chance to win. I'll pick a winner on the 17th. Make sure you leave an email address so I can contact you. More ways to win are at the end of this entry.
Always remember to consult your physican before beginning any exercise program.

For those of you who read by blog by visiting the site, (as opposed to those of you who use a blog reader) you may have noticed that I have a weight loss tracker over there on the right. I put it up in March, and it didn't move much…at all. Then, in June (?) I was sent a copy of Prenatal Pilates to try out and review for the blog. I was interested in it, because I hadn't seen any work out programs for pregnant women (although, truth be told, I didn't exactly look for them…) and I thought it would be useful for the next time I got pregnant. (Which is not now, sadly & btw.) And while exercise isn't normally for me, the big fat non-movement of my weight loss tracker was telling me that what I was doing (trying to eat better) wasn't working. So, I decided to give it a go. Bye bye, baby weight!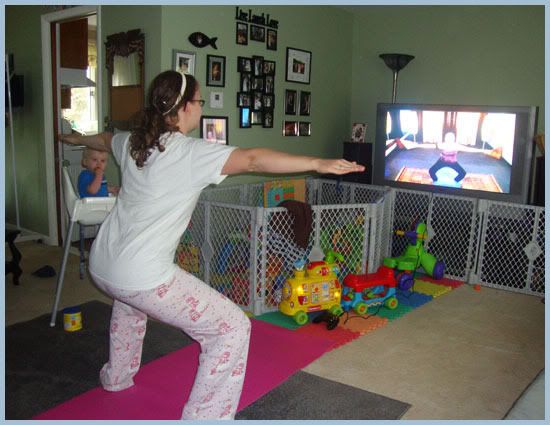 I used this DVD to help me lose those ten pounds. I would do a warm up, cool down, and at least one workout 2 – 4 times a week. Next Tuesday, I'll go over part 2 of how I lost the weight.
In the intro of this DVD, it gives some of the benefits of doing pilates for ANYONE, (not just preggos) such as:
Boosting energy
Helping you sleep better
Relieving stress
Helping to ward off cramps.
And it also gives some info on how doing pilates while you're pregnant helps the baby too:
Research shows that moms who exercise throughout their pregnancy have babies who score higher on general intelligence tests by age five.

Exercising moms have babies who are less colicky and sleep through the night sooner.

I really liked that the video was split up into different sections. There is a warm up, cool down, and four workouts that use either the mat, light weights, resistance band, or stability ball. Somedays, when I was feeling lazy super busy, I would just do the warm up. It was amazing how much better I felt after doing just that little bit.
I was also impressed by how easy the movements were. I've done some beginners pilates DVDs and given up on them because my balancely challenged self couldn't keep up with the instructor. Frustrating! But, with the exception of some of the ball exercises, I didn't have any problem with this DVD. I'm thinking that once I get some core muscles, I won't have a problem with the ball section, lol. Another thing that I really liked about this video was how it targeted some areas that I hadn't seen in other videos (hello inner thigh!) and really engaged my problem areas. (Back of the arm, what what.)
This might be silly, but a lot of the time the host, Dale Shea (girl), would count DOWN instead of up, and I found this a lot more encouraging for some reason. Is that odd?

One thing I didn't like was that it required the use of a wall a couple of times. I don't have a bare wall where my DVD player is, so I couldn't do that part of the ball section or cool down. I tried to mimic what Dale was doing, but it didn't really work. :-/
I also don't have a band, so I couldn't do that part, and my exercise ball is packed away as a "non essential" for the move, so I couldn't take pics of that. You get the idea, though. And July was pretty much a wash since I spent the whole month getting ready for John to come home, then he came home, and I'm just NOW starting to get back into my old routine…right before a move. *sigh*
Guess what? I have a copy of this DVD to give away!
Mandatory entry: Leave a comment with why you love or want to try pilates for your chance to win. I'll pick a winner on the 17th. Make sure you leave an email address so I can contact you.
Additional entries:
Like @EatSleepTwit on twitter and tweet the following: "I want to stay fit & win Prenatal Pilates on DVD! #giveaway via @EatSleepTwit" Comment with the tweet url.
Become a public GFC follower of this blog & comment telling me you're following it now.
Good luck!
End rating: 4.5 out of 5 hearts!

I really liked this DVD, but I had to take half a point off for needing a wall, because I'm sure a lot of people don't have blank walls in their home that they can go and do these exercises against. But besides that, I really enjoyed the DVD – and it works!
Full disclosure: I was sent the DVD to review for the blog, and was allowed to keep it, but all opinions are my own and were not influenced in any way.